COMMUNITY PARAMEDICINE
Mobile Integrated Dispatching for Alternative Delivery Models
Sometimes medics are needed, but ambulances aren't
Not everybody needs to go to the hospital: sometimes it's better to treat patients at home; often times the ambulance just isn't needed.

Beacon decentralizes emergency dispatching so that prehospital providers don't have to be on the ambulance to ensure quality coordination.

If you're a community paramedicine program, chances are you're looking to keep your operations as lean and cost-effective as possible. As far as your dispatching needs are considered, the mobile phones in your providers' pockets should be all you need to get the right medic to the right patient at the right time.

HOW IT WORKS
COMMUNITY PARAMEDICINE
1. LOW-ACUITY REPORT
A low-acuity patient calls, or is diverted to, a non-urgent hotline to seek medical advice for a health complaint
2. COMMUNITY PARAMEDIC DISPATCH
The dispatcher creates a new incident via Beacon that alerts all of the community paramedics in the area, allowing the nearest and best qualified providers to be assigned and directed to the patient's location.
3.  CONFIRM ON-SCENE
Once the responders have arrived and made contact with the patient, they confirm on-scene with Beacon
4. REQUEST OTHER RESOURCES
The paramedic begins their assessment and is given the option to involve additional care providers, for example a physician consultation or, in higher acuity cases, to request a BLS or ALS intercept.
5. PATIENT TRANSPORT
If and when transport is required, the paramedic can communicate through Beacon to the destination facility they'll be going to, the patient's acuity, and what their expected arrival will be.
6. PATIENT HANDOVER
Maps and call information are collected and compiled continuously to give public health authorities a real-time view on low-acuity patient conditions, care-seeking behavior and cost savings.
Launch The Beacon Platform Today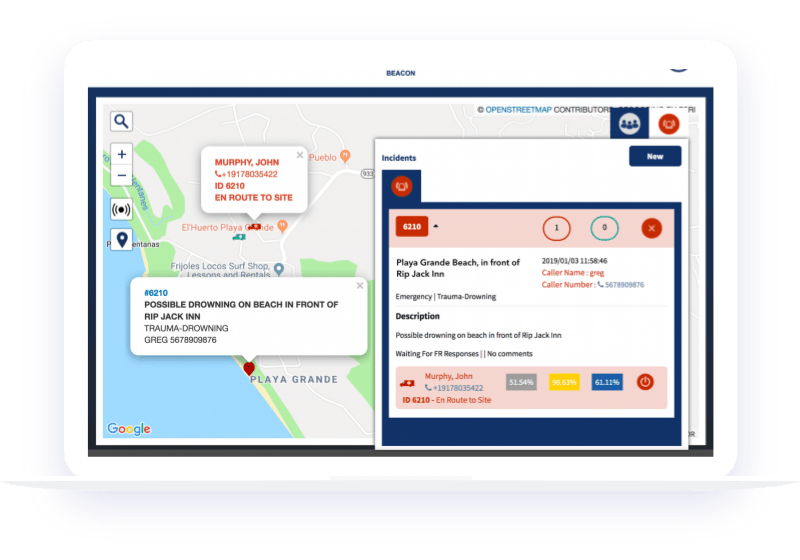 1. CREATE AN AGENCY ACCOUNT
If you're an Agency Manager and would like full access to the Beacon platform, click on the button below and register today!
2. INSTALL THE RESPONDER MOBILE APP
If you're a responder with an agency that's already using the Beacon Dispatch platform, send us an email to get the link to download the Beacon mobile app.
Still Have Questions?
If you have questions about Beacon operations or would like to sign up for a free 90-day trial, send us an email here.
Community Paramedicine Features:
Adjustable distribution lists — Re-configurable data centers enable flexible responder alert lists for precision dispatching
Mutual aid— Scalable design makes it possible to coordinate resources between and across multiple municipalities in rural and urban settings
Advanced notifications — Allows for robust communication between transporting units and receiving facilities by sending status to updates at programmable intervals/checkpoints
Multiple destinations — Allows for inclusion and designation of multiple sending and receiving facilities
Hospital bypass — Functionality to track bed availability
Universal Features:
Low-tech set-up — A single internet connected-device is required to launch
Universal accessibility — Can be used on any mobile phone, whether smartphone or feature phone, with or without internet connectivity
Easy-to-use interface — Text message interactions require minimal input, are easily followed, and are predictable; Admin and Dispatch interface is intuitive and accessible on any device
Automated control – After creating the initial alert, all resource coordination is automated, eliminating the need for dispatchers to micromanage individual resources
Mixed dispatching— Assign specific response units to an incident and/or crowdsource the nearest responders from larger pools
Modular architecture for easy customization — Beacon v3.0 has been re-built using a modular architecture to enable custom changes to message content and response sequence workflow